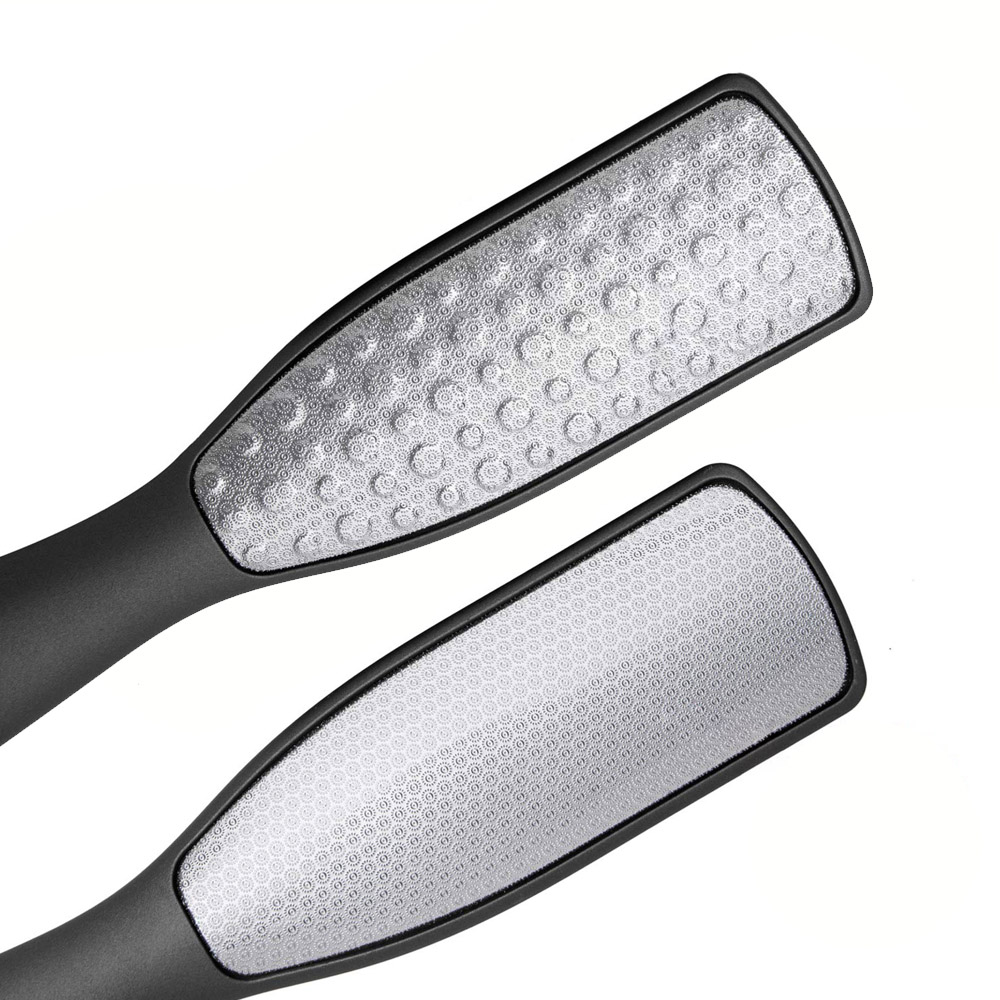 If left alone, calluses can grow considerably painful, making it hard to walk and fulfill your daily tasks. So, you need to get rid of them as soon as you can with a callus remover or foot file.
However, that's easier said than done. After all, finding an effective foot file for removing a callus on foot is difficult. But we think we've solved your dilemma.
We've tested a variety of callus removers to ensure we recommend only the Best Foot Callus Remover — and that's exactly what we'll be talking about today. With this simple yet unbeatable foot scrubber, your hardened skin will be a thing of the past.
TLDR: The Swissklip Callus Remover is undoubtedly the Best Callus Remover on the market. Boasting a stainless steel construction and a wide double-sided blade, removing calluses from wet or dry feet takes a matter of moments.
Pros and Cons of The Swissklip Callus Remover and Foot Scrubber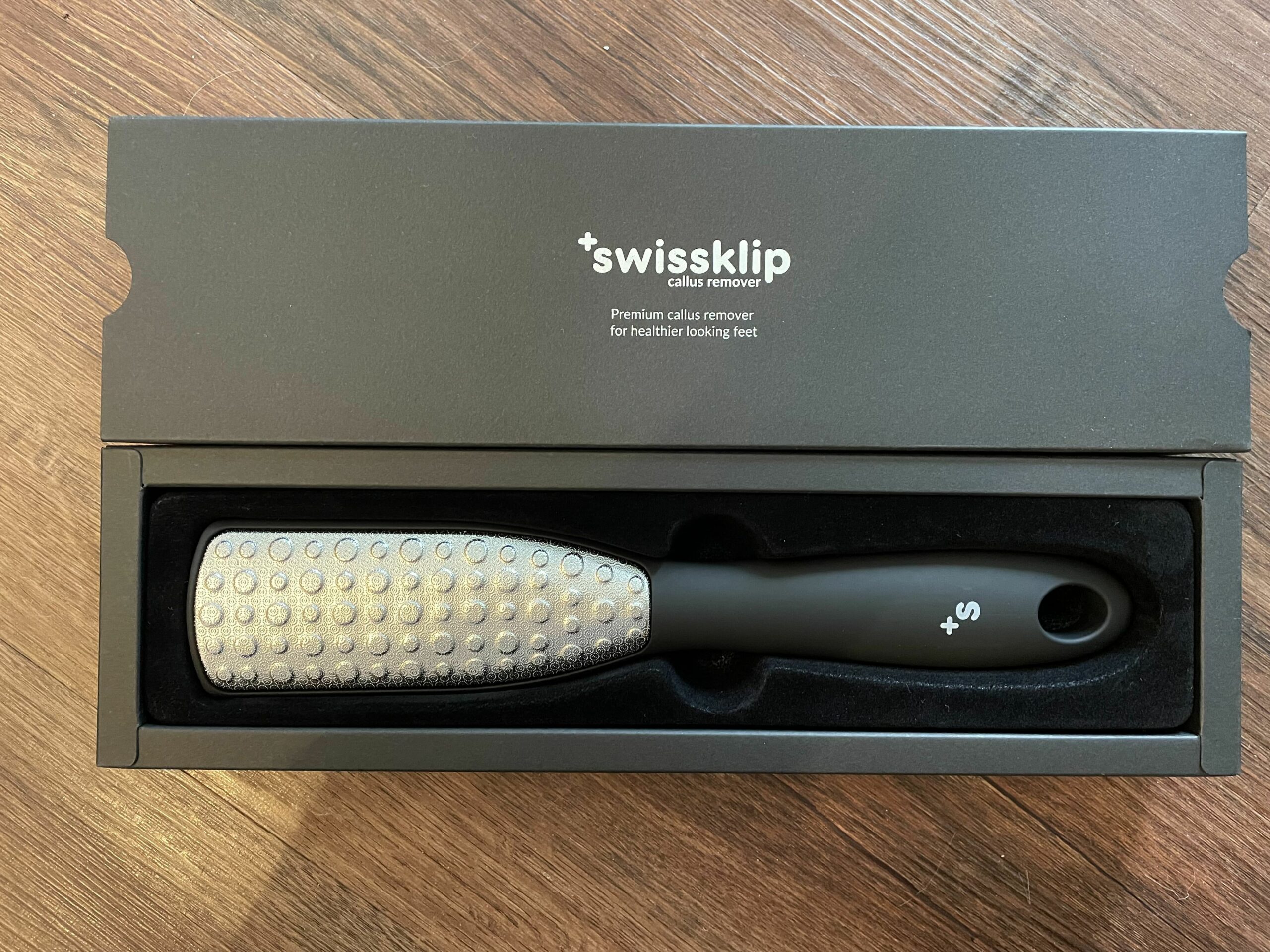 Pros
Ergonomic and non-slip grip for comfortable use

Two-sided blade for shaving hardened skin and massaging feet

Made from medical-grade stainless steel

For both dry and wet feet

Curved shape for reaching all areas of your foot

Stylish design
Cons
Only available on Swissklip's website

Take care not to apply too much pressure, especially when scraping wet feet

Low-tech (yet works wonders) compared to others on the market
What Is Swissklip Callus Remover and Foot File?
As the name suggests, the Swissklip Callus Remover is a foot file for at-home treatment of hardened skin, cracked heels, and calluses designed and manufactured by Swissklip, a family business.
Made from medical-grade stainless steel with an ergonomic grip for comfortable usage, the double-sided blade ensures you cover your whole foot with ease. Comprising safeguard technology, you only need to use light pressure for effective callus removal. 
The low-tech yet wonderfully efficient device has both fine and sharp holes, allowing you to get soft, smooth feet quickly. It has even been featured on BuzzFeed, CNN, CBS, Fox, NBC, and Yahoo.
A Deeper Dive Into the Benefits of Swissklip Callus Remover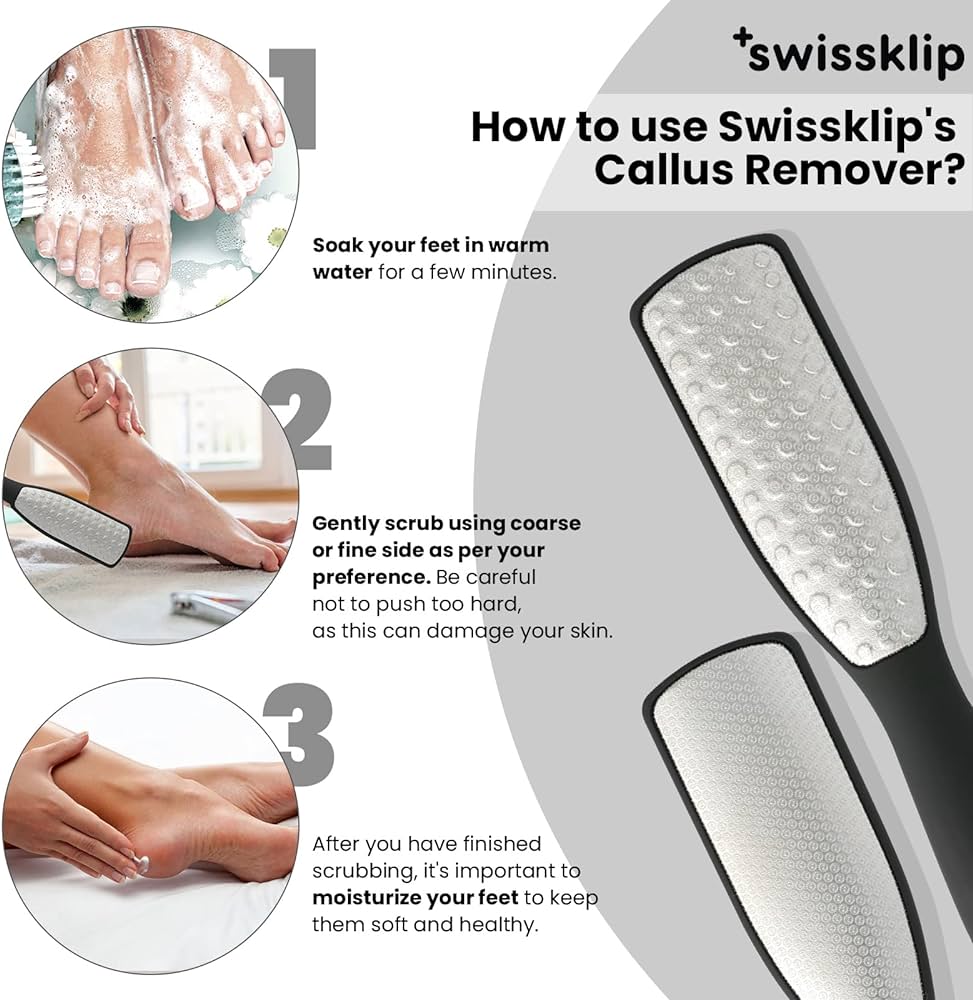 The double-sided blade is the feature that originally drew us to this champion product. 
One side boasts sharp holes that remove dead skin as no other foot file can. And on the other side, it displays super-fine holes for a massage effect — yes, it really does feel like you're being massaged (we've tried it!). 
Thanks to the sheer surface area of the two-sided blade, it covers your foot completely, ensuring you just need a few up and down motions to achieve the ultimate smoothness. 
Plus, the curved structure of the Swissklip Callus Remover ensures you reach even the most difficult areas. 
Moreover, it's constructed from medical-grade stainless steel, which works wonders whether your feet are wet or dry, and you won't have to worry about purchasing another for years to come. After all, stainless steel is known for its corrosion prevention and safe sterilization. 
Aside from the blade, the non-slip handle is strong and easy to hold. It supports your natural hand movement, eliminating the worry of cramps or limited mobility. The grip is even made from non-slip frosted ABS resin to guarantee you won't drop it in the shower.
How Does Swissklip Callus Remover and Foot File Compare to Other Callus Removers?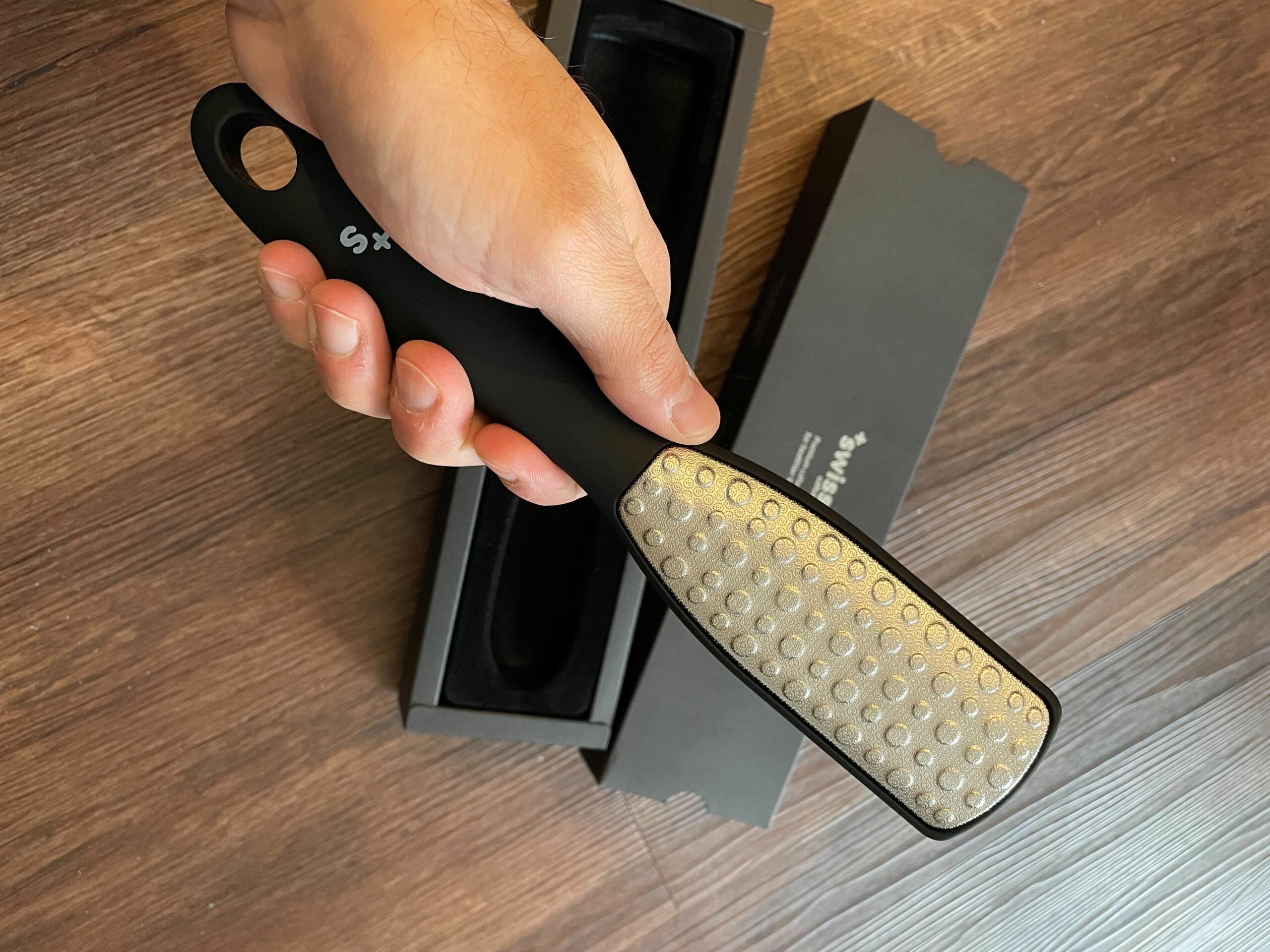 Truthfully, the Swissklip Callus Remover Scrubber doesn't really compare to other removers like the Dr Scholl's Callus Remover. Why? Because it's so much more effective!
It's created a new league for itself that others are yet to join.  
From preventing corrosion to ergonomic grips to the blade's sheer size to its double-sided nature, you can't go wrong with this callus-on-foot remover. You'll be left with nothing but the softest, smoothest feet. And who doesn't want that?
Who Should Buy the Swissklip Callus Remover Foot Scrubber?
Anybody looking for a quick (read: immediate) solution to calluses, cracked heels, or dry skin should purchase the Swissklip Callus Remover Foot Scrubber. People who take care of their feet, want to have nice and healthy feet, who want to avoid calluses and other feet conditions such as toenail fungus (read this How to get rid of calluses on feet article) or ingrown toenails.
We tested many foot file before concluding that this one goes above and beyond to achieve the desired results. And other customers who've tried it agree with us. Their calluses were gone in a matter of minutes, regardless of whether they had wet or dry feet when doing the treatment!
Why Should You Get a Swissklip Callus Remover Foot Scrubber?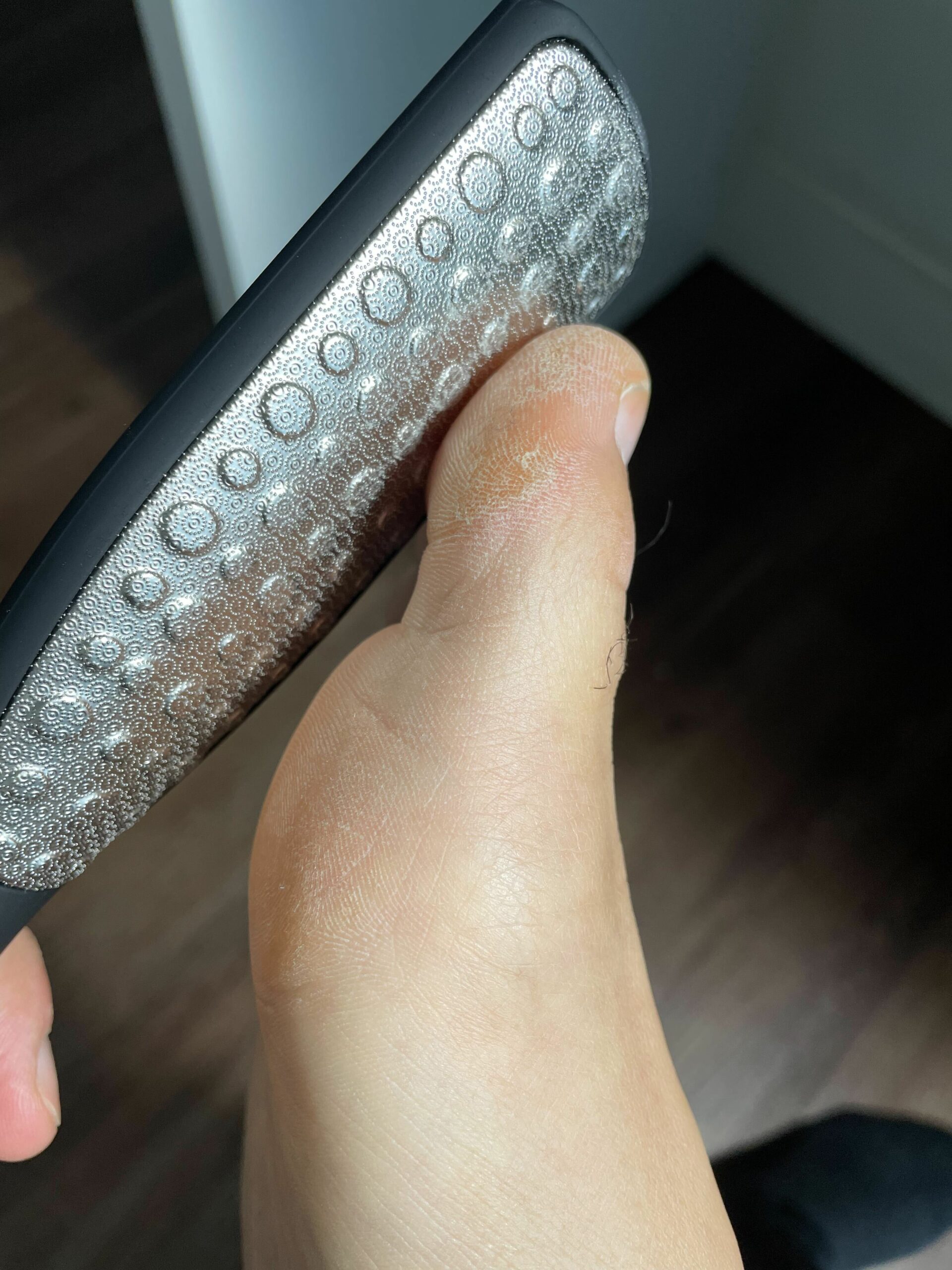 If you haven't already guessed by now, we think you should buy this best callus remover if you're looking for an immediate solution to calluses, cracked heels, and hardened skin. 
It's fantastic value for money (especially with their current discount, which we'll discuss more later) and made from the highest quality material out there. The stainless steel build lasts for years, so it will serve you well for a long time. 
How Do You Use the Swissklip Callus Remover and Foot File?
Using the Swissklip Callus Remover and Foot File is ridiculously easy, especially compared to the higher-tech devices on the market these days. 
All you need to do is hold the ergonomic handle and start scraping away your dead skin! It's as easy as that. Just make sure you only use light pressure; otherwise, you risk taking off more skin than you should. 
You can scrub either wet or dry feet, so find the method you're most comfortable with, and you'll be well on your way to soft, callus-free feet.
Does Swissklip Callus Remover Foot Scrubber Really Work?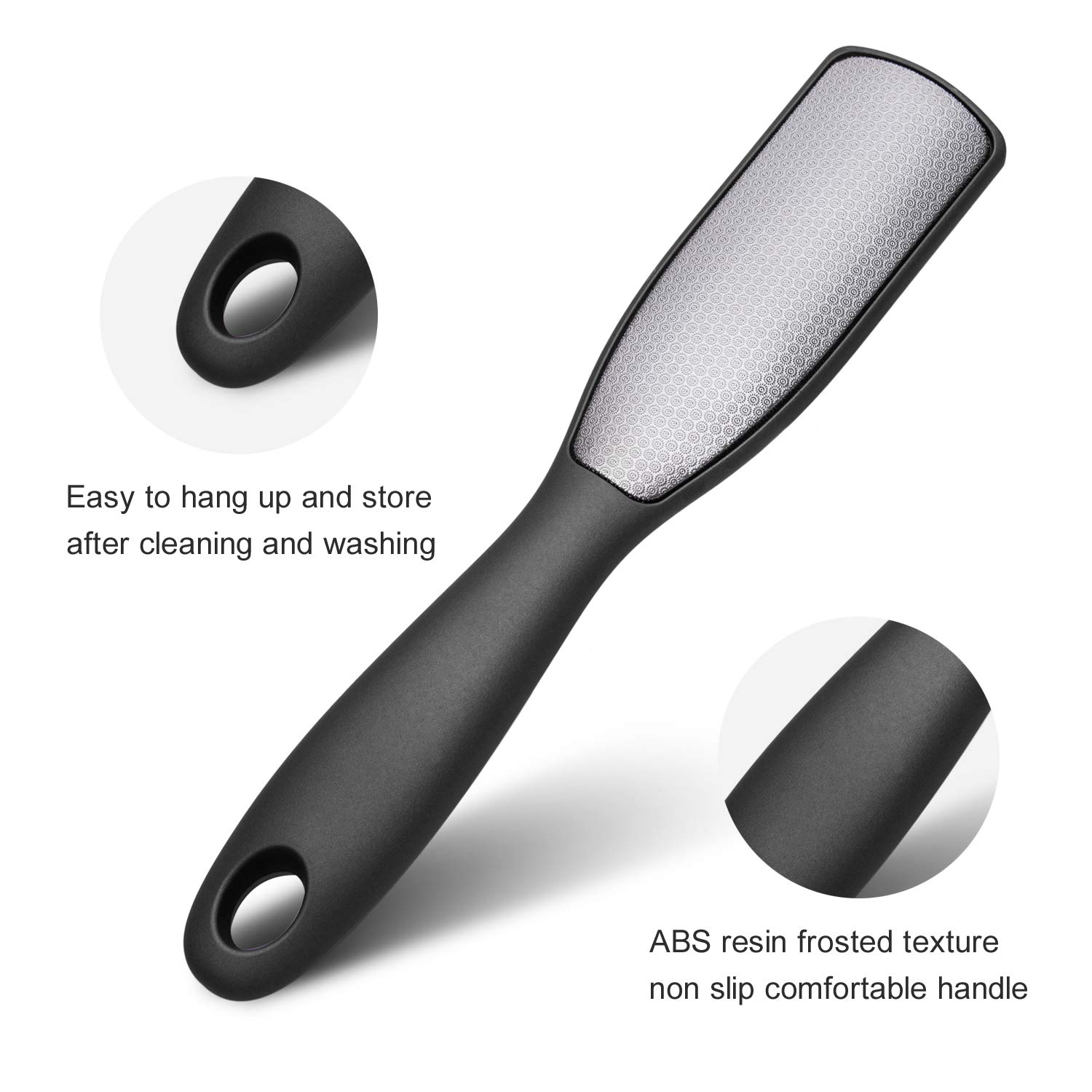 We really put Swissklip's Foot Filer through its paces by trying it out on our feet when they wet and dry.
On our dry feet, the at-home worked amazingly. All we had to do was lightly run it across our calluses, and the hardened skin immediately came away. 
When using it on wet feet, we realized we needed to use slightly more pressure. But both sides of the blade were incredibly effective. 
With that in mind, yes, this remover really works. We'd suggest this product to anybody searching for a near-immediate solution to callus removal. 
Is Swissklip Callus Remover Foot Scrubber Safe to Use?
Absolutely — we wouldn't recommend it if it wasn't. 
This best callus remover for feet is 100% safe to use. Just use light pressure (the blade does all the work), and you won't have to worry about removing too much skin. 
How Long Does Swissklip Foot File and Foot Scrubber Last?
The stainless-steel construction means the Swissklip Foot File and Foot Scrubber will last for a very long time. You may never need to replace it!
Swissklip Callus Remover Foot Scrubber: What Are Customers Saying?
We're not the only ones who absolutely adore this foot file. It's received overwhelming praise from everybody who has had the pleasure of using it — 95% are five-star reviews, and 5% are four-star reviews!
Customers appreciate the large surface area that helps remove calluses quicker than other tools they've tried. And they love that they don't have to press hard to see results. The blade is sharp yet comfortable for effective removal. 
Where Can You Order a Swissklip Callus Remover Foot Scrubber?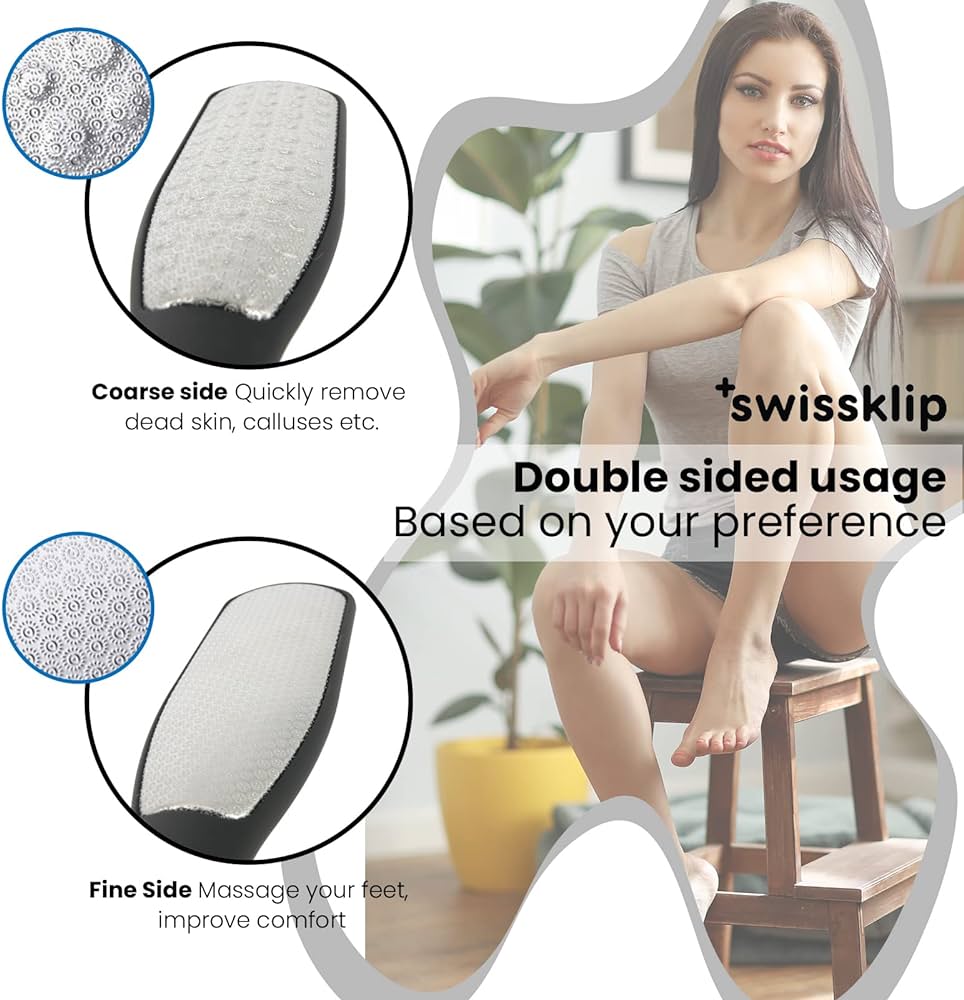 You can only purchase the Swissklip Foot File and Foot Scrubber from the brand's official website. But supplies won't last forever — you can't wait too long; otherwise, you'll risk missing out on all this callus-removing goodness!
Just head to the official website and hit the "Buy Now" option. A window will prompt you to go to the check out, and you'll input your information and payment method. 
After placing the order, you will usually get it within five days.
Are There Any Discounts Available?
You can get the Swissklip Callus Remover Foot Scrubber for a whopping discount (50%). But, as we mentioned before, supplies won't last long, and we don't know how long the sale will last either. So, it's best to act quickly to ensure you aren't left feeling disappointed!
Why Are They Running The Massive Discount Right Now?
Swissklip is a family-run business that understands just how much one product can reinvigorate your life. So, the team is helping their customers prioritize their health. Thus, they're running a massive discount for their best callus remover. 
How Is It So Affordable?
You can only buy the Swissklip Callus Remover Foot Scrubber from the manufacturer's website — and this is the reason behind its affordability. 
Even though the product uses the highest-quality equipment, Swissklip is able to offer a low price since they don't deal with any third parties to sell it. 
The Final Verdict
Overall, the Swissklip Callus Remover Foot Scrubber is the best callus remover on the market — we don't think we'll find a more effective product! 
The large curved double-sided blade makes removing calluses a breeze on both wet and dry feet. Now we have it; we wouldn't want to be without it.
We can't get enough of the Swissklip Callus Remover Foot Scrubber. It's undeniably the best callus remover for feet on the market today. It's easy and effective; what more could you ask for?
Order now to take advantage of the major discount while stocks last.