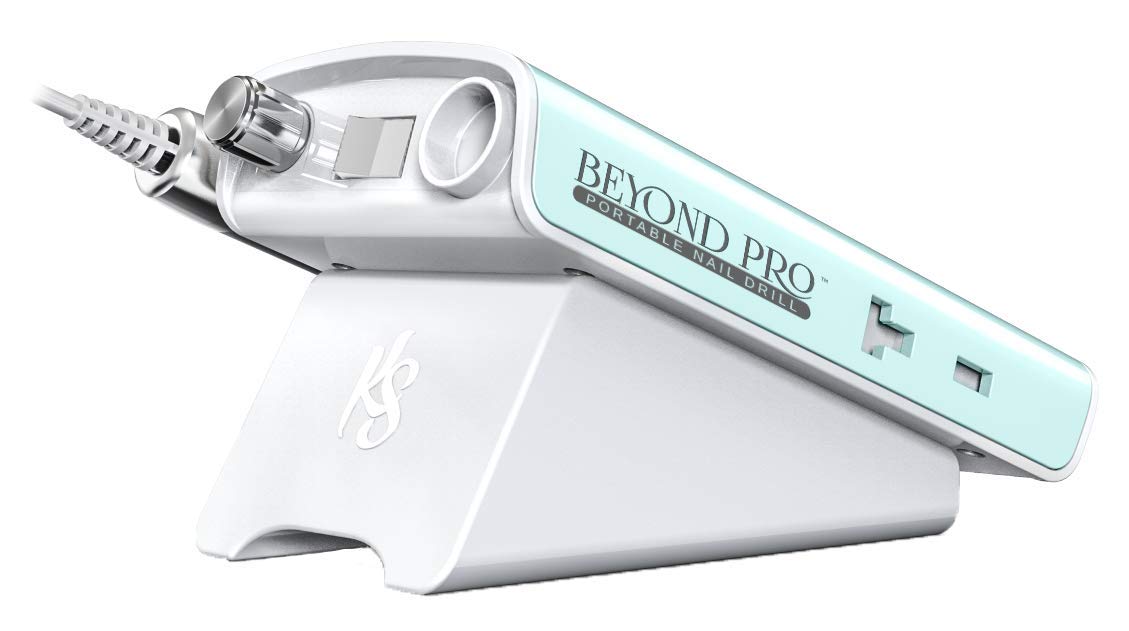 Investing in a Kiara Sky Beyond Pro Nail Drill could potentially help you elevate your nail game while saving you from costly trips to the salon. This review offers an insight into one of the best electric nail file, its design, performance and unique features – so let's take an in-depth look at if it is worth adding this Kiara sky nail drill to your collection! If you'd like to know more about another nail drill, check the Makartt Nail Drill review.
Short Summary
Kiara Sky Beyond Pro Nail Drill offers powerful and reliable performance with its acetone-resistant body, adjustable 0 to 35,000 RPM speed and brushless motor design.
Kiara Sky's innovative collection includes nail electronics, care products and art accessories for salon professionals or enthusiasts.
Customers have praised the Kiara Sky Beyond Pro Nail Drill for its ease of use, powerful motor & battery-powered design, making it a must have investment!
Unveiling the Kiara Sky Beyond Pro
The Kiara Sky Beyond Pro, a professional e-file system that has been widely accepted by the nail industry, is an absolute must for professionals and DIYers alike. It possesses all of the features necessary to give you a hassle free experience on-the-go: it's battery operated, lightweight, acetone resistant body. As well as rechargeable design makes this portable pro nail drill incomparable! Boasting maximum performance combined with unparalleled convenience, the Beyond Pro will keep any nails looking fresh and beautiful no matter where your travels may take you.
The Kiara Sky Nail Drill Design
The Kiara Sky Nail Drill is a stylish and convenient option for professional results. Its sleek design features an advanced battery-powered e-file system, lightweight portability, and acetone resistance, all with up to 10 hours of operation time! Plus there's the added bonus of variable speed control as well as forward/reverse switch options tailored for optimal comfort. Give your manicure or pedicure routine a tech upgrade: say goodbye to those outdated nail drills. This best drill will take care of all needs in style!
Smooth and Quiet Performance
The Kiara Sky Beyond Pro, with its advanced brushless motor and smooth design, is capable of running quietly and efficiently for up to 10 hours. This means that you can stay confident throughout the day without having to worry about any possible disturbances from your nail drill. Not only does this allow you to feel more secure while working, but it also helps make sure everyone around remains peaceful too!
Precision Speed Control
With a simple press of the button, you can unlock limitless possibilities with the Kiara Sky Beyond Pro and experience power like never before. The nail drill is outfitted with precision speed control from 0 to 35,000 RPM for maximum accuracy and efficiency. Enabling customization suited specifically to every task so that exceptional results are achieved by your clients or yourself. With this level of fine-tuning enabled via Kiara Sky's precise controls, users will have no problem achieving their desired output.
Professional Geared Motor and E File System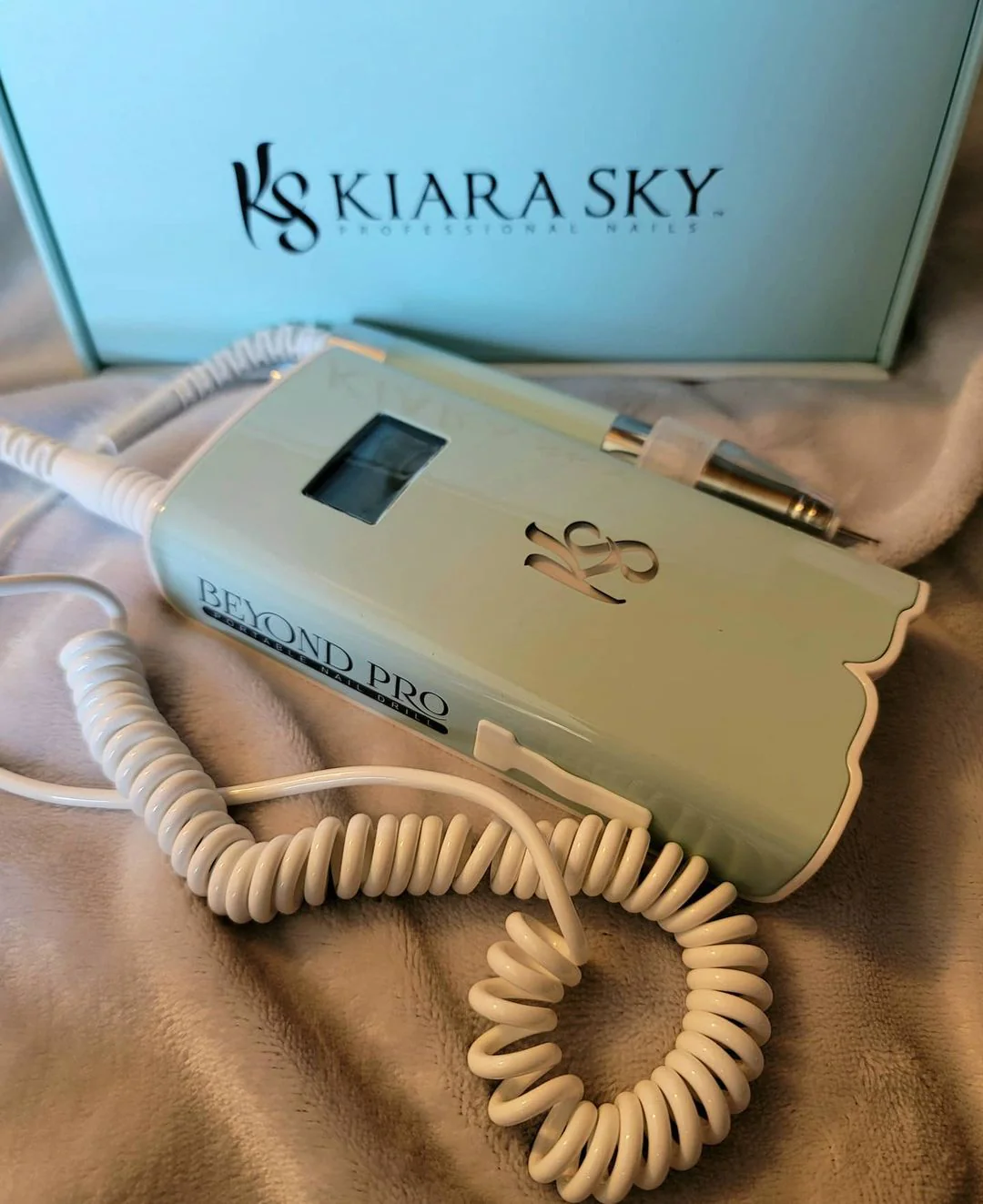 The Kiara Sky Beyond Pro is not just a stylish drill. It also has an incredibly powerful motor with its professional geared design and E file system. These features offer advanced rotary tool capabilities for filing nails, making sure that you get a perfect finish each time.
To the standard components, this nail drill stands out from others due to its innovative brushless motor technology and acetone-resistant body construction. With all of these great features in one package, there's no doubt that it provides superior performance over traditional drills – giving clients their desired look every single time!
Innovative Brushless Motor Design
Kiara Sky's Nail Drill has been crafted with a brushless motor that eliminates any vibrations, generating an incredibly smooth and quiet output. This innovative design not only proves to be energy-saving as it allows batteries to go up to 50 percent. Than conventional drills, but also offers dependable and more effective operation every time you use the nail drill. Users can expect their device's performance levels to remain consistent each usage due to its superior quality build of this powerful tool.
Professional E File System
Kiara Sky's Beyond Pro Portable Nail Drill is a professional E file system offering top-tier performance and reliability. This rechargeable cordless tool has an acetone resistant body, brushless motor design and precise speed control for optimum safety during operation. With these features, it is no wonder the Kiara Sky Beyond Pro will serve as a long-term investment to any nail technician looking for an excellent result from their drill machine. Its light weight construction means that there are fewer worries about fatigue due to extended usage periods with this model in particular compared to other drills on offer today, yet another testament of why the beyond pro portable nail drill makes such fantastic sense!
Acetone Resistant Body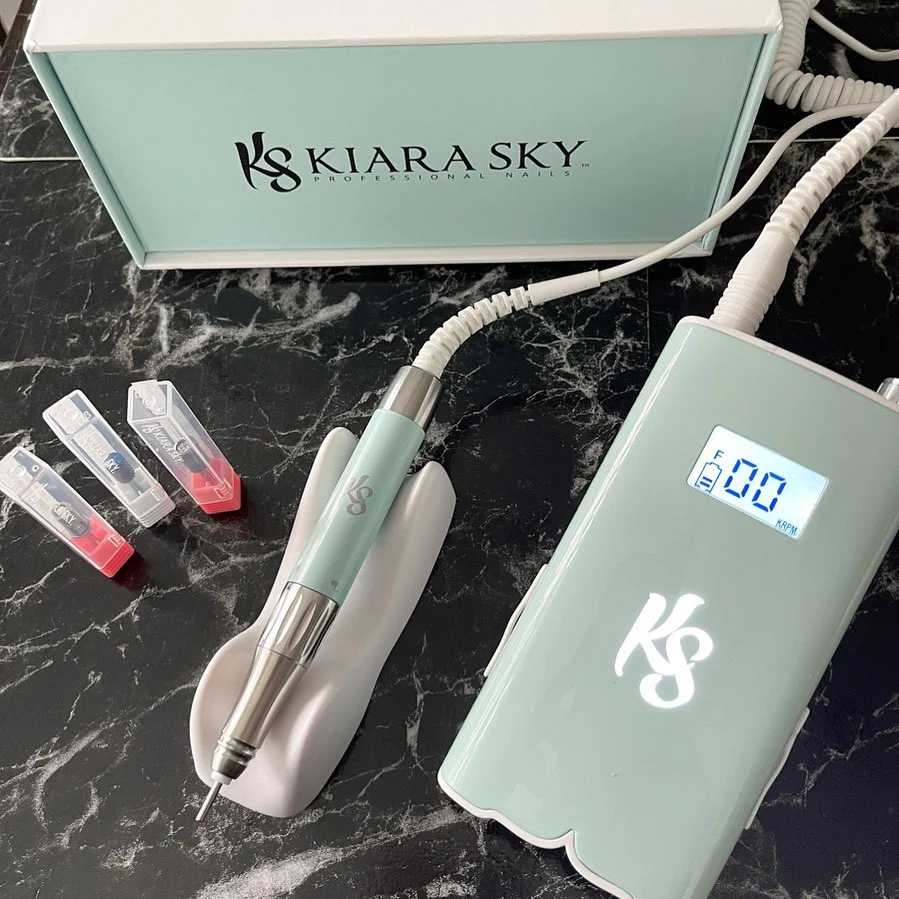 The Kiara Sky Nail Drill is designed with an acetone-resistant body, meaning it will be able to handle the harsh chemicals in acetone without being damaged. This provides users added longevity and durability of their nail drill investment even when used frequently in a salon setting.
Not only does this protect your purchase from wear and tear, but also offers peace of mind that you've made a smart choice by investing in such quality tools for better manicure results.
Kiara Sky's Innovative Collection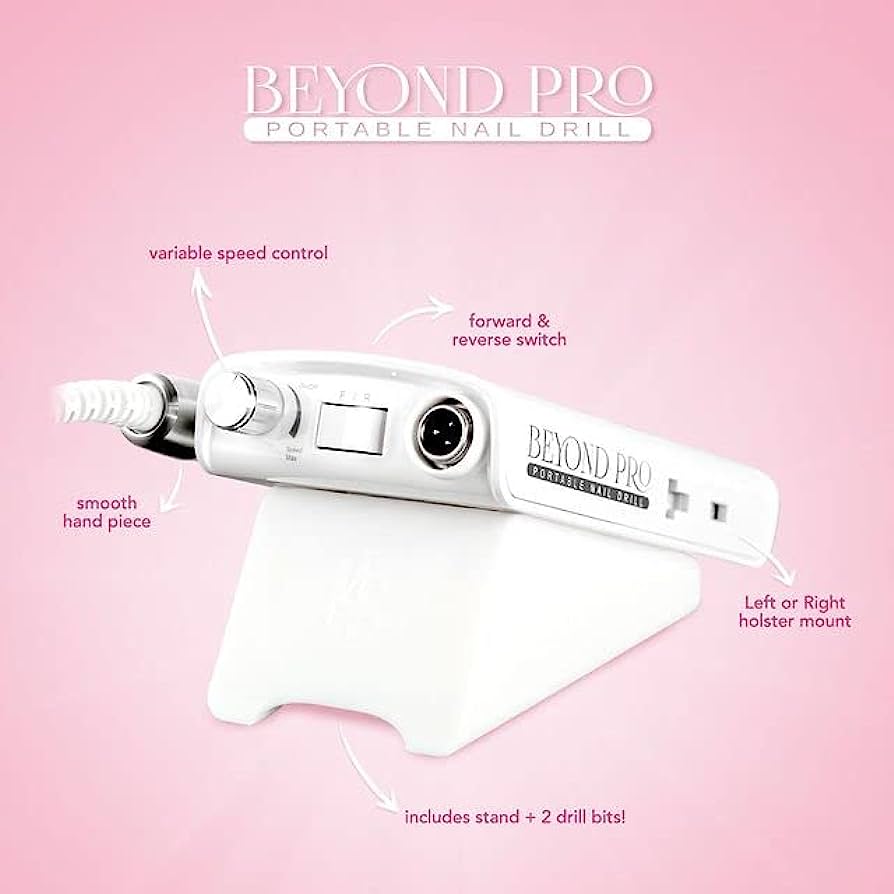 Kiara Sky is renowned for its Beyond Pro Nail Drill, but the brand has even more to offer with an all-inclusive trio collection boasting over one hundred unique colors of lacquer, gel polish and powder formula. The company furthers its standing as a leader in the nail industry by introducing their Beyond Pro line, which consists of innovative electronic devices specifically designed for nails.
At Kiara. Sky also provides products that cater to many areas related to manicures, from nail care items such as prep treatments and polishes to art supplies like decorative glitters so you can always get creative with your look! All this makes them stand out among other brands that specialize in beauty techology.
Nail Electronics
The Beyond Pro, part of Kiara Sky's selection in nail electronics, is a drill that stands out above the rest. It has an LCD screen and can hold its charge for up to 10 hours while being easy to transport due to it being cordless and rechargeable. The stylish design not only shows off Kiara Sky's commitment to cutting-edge products, but also their devotion to giving enthusiasts and professionals alike quality tools at hand.
Nail Care Products
Kiara Sky provides a comprehensive selection of nail care products that can suit any kind of need or taste. Including lacquers, soak-off gel polish, non-wipe top coats, dip powder and acrylics, there is something for everyone in their range.
Their superior quality goods are designed to give you the perfect results – ensuring your nails always appear beautiful no matter if you are an experienced technician or simply looking forward to some indulgence at home.
Nail Art Accessories
Kiara Sky provides an extensive selection of nail electronics and care products as well as a vast range of art accessories, to let you explore your artistic potential. Its array consists of tools for nail decoration such as stickers, decals – everything necessary to create breathtaking designs with Kiara Sky's top-notch items.
This successful brand has gained its great reputation due to the high quality it offers plus innovative pieces that fulfill all your needs in terms of nails health & aesthetics.
Tips for Using the Kiara Sky Beyond Pro Nail Drill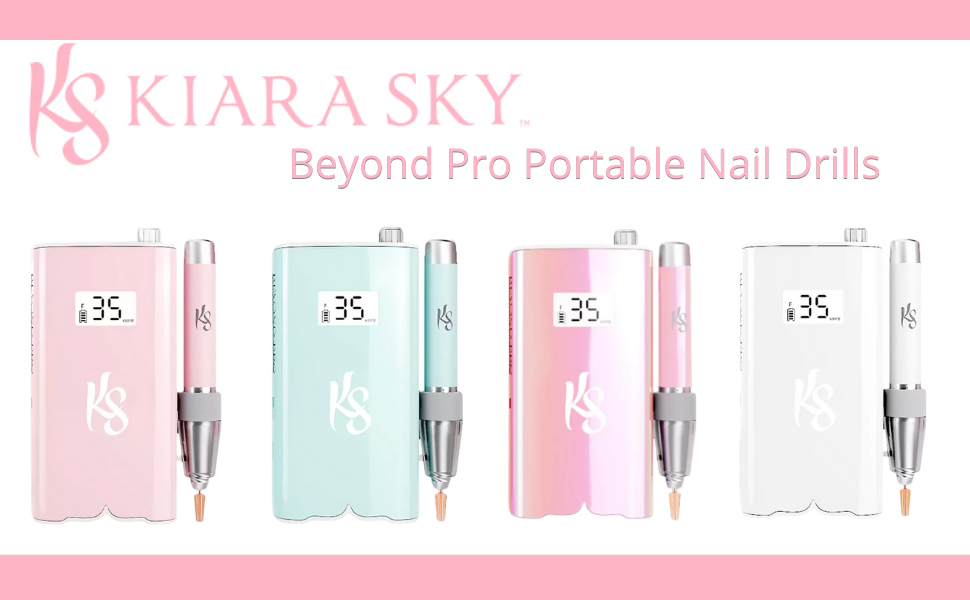 To get the most value out of your Kiara Sky Beyond Pro Nail Drill, it is important to observe proper upkeep and use practices. This section contains useful advice that will help you keep this drill in peak condition for many years.
From preserving its efficiency to optimizing performance, these tips can make sure you are getting the best from your investment with Kiara Sky.
Proper Maintenance
Maintaining your Kiara Sky Beyond Pro Nail Drill in the best working order requires routine care. After every use, take a moment to wipe down or brush it off with a light cloth. For disinfection of the drill bit, make sure you cleanse it by scrubbing with soap and water or soaking in acetone following proper sanitization processes.
In cases where noises are being made from its operation, becomes overheated quickly while using it, vibrating excessively, either overly powered up or not enough power is present then this indicates that the unit needs professional repair for ideal results when operating again, alternatively check if some adjustments would be beneficial for optimal performance out of your Kiara Sky nail drill!
Safe Use Practices
For maximum safety when using the Kiara Sky Beyond Pro Nail Drill, users should always follow the guidelines outlined in its owner's manual. Not only does this ensure that wrist discomfort is minimized, but also helps to optimize performance and motor life expectancy by making use of both forward and reverse functions for effective operation. One must be aware of drill bit colors as they signify size and type. By following these procedures provided with the Kiara Sky product line, you can rest assured knowing your manicure experience will be safe yet enjoyable!
Maximizing Efficiency
The Kiara Sky Beyond Pro Nail Drill can be tailored to any job with its precision speed control, offering accuracy and reliability each time. By using the functions of this drill accordingly, it is possible to achieve salon-like results that are expected from a product made by Kiara Sky. To make sure you maximize efficiency when working on your nail drills, adjust the speed depending on what task needs doing, this allows you focus on delivering quality outcomes every single time!
Testimonials from Customers
Customers using the Kiara Sky Beyond Pro Nail Drill have been giving glowing reviews of its quality and results. Many consider it to be incredibly user friendly, having a strong motor that quickly removes acrylics or dip powder with ease. This convenient battery powered model is also lauded for being lightweight while still providing professional-grade performance, no wonder why this nail drill by Kiara Sky continues to be one of the top selling items in its field!
Kiara Sky Nail Drill: Does it Really Work?
The Kiara Sky Beyond Pro Nail Drill is a tool that lives up to the hype. It provides top-notch features like its professional geared motor, innovative brushless design and precise speed control combined with an acetone resistant body for unbeatable results in no time at all. With this reliable equipment you can provide your clients or yourself salon quality manicures and pedicures every time!
Kiara Sky's craftsmanship has allowed them to create a product that offers great value for money as well as satisfaction guaranteed workmanship on whatever project it may be used on, making investing into the Beyond Pro nail drill absolutely worth it!
Where can I buy it?
If you'd like to make use of the Kiara Sky Beyond Pro Nail Drill and take advantage of its powerful features, obtaining one is simple. Whether it's from the official website or at Walmart, a purchase can be made. Online retailers such as Amazon and eBay offer them for sale too, so shopping around has never been easier when getting your hands on this pro drill!
Final Verdict
Kiara Sky Beyond Pro Nail Drill is an excellent choice for those seeking a professional grade nail drill. Its advanced motor gives you precise speed control and its acetone-resistant body makes it robust to use at home or in the salon. With its cutting edge brushless technology and user reviews raving about the quality of results produced by this drill – there's no doubt that it will take your nail game to greater heights! Allowing you to achieve top notch manicures with ease from the comfort of your own space. If you're looking for superior performance out of a reliable tool then this impressive product from Kiara sky should be first on your list!
Summary
If you want to experience top-notch results for your nails, the Kiara Sky Beyond Pro Nail Drill is an absolute must have. Designed with a sleek design and great customer reviews, it will certainly elevate your nail game! Both professional technicians and home users can benefit from this powerful yet innovative tool as well as its advanced features – don't wait any longer and get yourself the Kiara Sky Nail Drill today!
Frequently Asked Questions
Where is Kiara Sky from?
Kiara Sky, based in sunny Bakersfield, California, USA, is a prominent name in the professional nail care industry. They face tough competition from well-known names such as OPI, Gelish and Essie.
What gel polish do professionals use?
For salons, Gelish and Orly gel polish provide the ultimate professional solution for any nail art or colouring job. Perfect results are guaranteed with these trusted brands thanks to their unbeatable durability and strength.
Creating flawless designs is a breeze when you choose this top-of-the-range quality product specifically designed for expert use – perfect manicures every time!